eDelivery
Registered digital sending of documents
Signed digital document transmission, legal proof delivery service and secure information transfer.
Registered e-mail is used to legally and irrefutably prove the time of transmission, content and delivery of e-mail communications to one or more recipients.
The registered e-mail is a legally valid alternative to the registered mail. Also with the registered mail you obtain a receipt to have legal guarantee about the delivery of documents and the time of delivery. One difference is that registered mail is cheaper and often faster.
But eDelivery it is also a way to give legal guarantees ("track-and-trace") to messages and documents you now send by regular e-mail. That way, you also get reliable proof for important emails. This can be useful in a world where digital (commerce) traffic plays an increasingly important role. If a third party denies that you sent them an email, have not received the content, or the email is not what you claim to have sent, you can now easily prove it.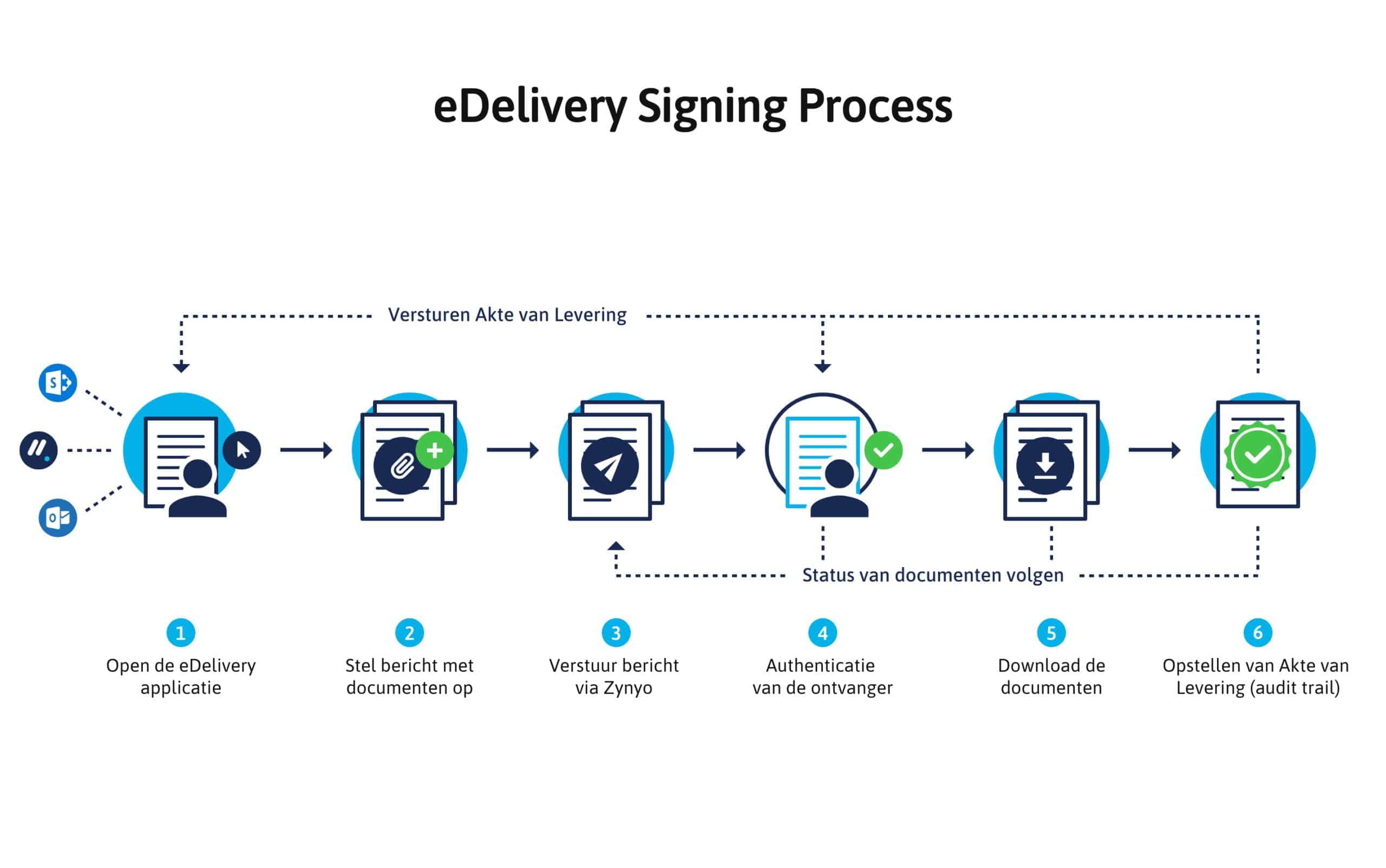 How does registered mail work?
A registered email works much the same as a regular email. As with any type of communication, there is a sender who sends the email and a recipient who receives it. But the major difference in sending a registered email is that a third party is involved in delivering the email. This "digital deliverer" is responsible for several actions, namely (i) registering the e-mail and its content, (ii) delivering the e-mail to the recipients, and (iii) securing legal (receipt) evidence of the entire delivery process.
Once your email is delivered, a receipt is issued with all the digital evidence collected during the email sending process. This is a PDF document that serves as an evidence document with legal security that proves who sent what to whom and when. Registered e-mail uses electronic signature technology to sign delivery receipts with it.
Once you send a message registered digitally, we act as a digital deliverer your message in a certified manner. A unique feature of our service is that the recipient's actions are not a determining factor. The receipt is issued automatically, so no matter if the recipient fails to open the email or intentionally deletes it, you will always have legal proof of the delivery of your message.
"An eIDAS registered email ensures secure and reliable delivery of electronic messages between parties and provides proof of the delivery process that is legally accepted."

- Joost Hament, Chief Legal Officer Zynyo
Legal value of registered mail
The registered e-mail stems from European legislation and its legal validity has been repeatedly confirmed in Dutch case law. It also complies with the so-called sending and receiving theory from the Dutch Civil Code. In accordance with European legislation, the registered mail cannot be denied solely on the ground that it is digital. This makes it legally an alternative to the registered letter, provided of course that it is properly set up.
The requirements for a registered email
Security: Message content ('envelope and content') during transmission is secure and cannot be altered ('integrity')
Integrity: Date, time of transmission and receipt, message opening are recorded by time stamp and e-Seal
Security: Identification of sender and possibly addressee
What is registered mail used for?
The registered e-mail can be used where the registered letter is required, for example, when terminating a lease. Often these situations are stated by law or custom. Besides these purposes, registered mail can also be used for security purposes. Consider the increasing role of personal data protection. With a registered e-mail one keeps control over with whom and what data are shared. You can also prove this afterwards. Given the variety of purposes, several work processes or use cases for the registered e-mail can be identified.
The use cases within business processes are numerous but stem from different requirements:
Compliance with legal or contractual obligations (for example, when canceling subscriptions, contracts, policies and services);
Transmission of documents requiring proof of transmission and time of transmission (e.g., deadline bids, termination letters, termination/dismissal notices);
Legal notices in court proceedings, summons letters, liabilities, claims and complaints;
Sending credit and collection notices, defaults, late payments;
Send documents containing confidential information such as customer data, patient data, employee data, citizen information, loan documentation, mortgage quotes, contracts and notarized deeds;
Protect authorship of proposals/projects (protection of IP rights).
How do you send registered emails?
A registered email address can be sent from any of our products. We have both a solution for small organizations (SME) or larger organizations (enterprise), but can also be sent from your sharepoint or mail environment.
The sender sends to Zynyo's platform the recipient's name, email address and documents.
A mail with is sent to the recipient's email account.
The registered email contains a deeplink to the documents in the Zynyo environment. Optionally, the recipient can only access the document or documents after authentication (see eIDs).
The sender and receiver of the message receive a Deed of Delivery, an audit trail of sender and receiver actions, receiver authentication and documents sent.
Once the email is delivered, we will email you the Deed of Delivery in pdf. The Deed of Delivery is a digitally sealed document that includes information about:
The documents sent
What time these were downloaded
The name of the provider and recipient
Recipient characteristics; email and bank verified personal data
The times of all actions of the recipient
You are responsible for keeping your Deed of Delivery but it can also be downloaded from your account on our platform for another 1 month.
Curious about the possibilities?

Simply contact us via the buttons below
and we will be happy to tell you more.